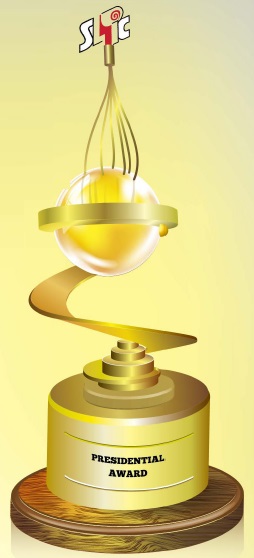 Sri Lanka Inventors Commission is a statutory body established by the provision of the Sri Lanka Inventors Incentive Act No.53 of 1979 and functioning under the Ministry of Education.
The objective of the Commission is to promote and encourage creativity and inventiveness in Sri Lanka by providing technical, legal, financial assistance and assistance to find access to the market. Achieving its objectives the Commission has taken many measures where giving Presidential Awards to inventors is one of them.
As stipulated in paragraph 11(f) of the Sri Lanka Inventors Incentives Act the Presidential Awards are given annually to Sri Lankan citizens for their patented inventions or innovations. Sri Lankan individuals, groups, or institutions who have made inventions or innovations that are patented in Sri Lanka during the year have been evaluated by the jury appointed by the President of Sri Lanka to recommend Presidential Award winners.
The overall best invention of each year is given the "Presidential Award of the Year" award.
The competition is open to fourteen technical fields namely;
Public Safety, welfare and National Defense
Food Technology
Medicine and Pharmacy
Public Works and Infrastructure Engineering
Information and Communication Technology
Applied Sciences and Technology
Environmental Conservation
Chemistry
Traditional Medicine
Physics
Agriculture
Energy
Transportation
Engineering