Young inventors bring pride to Sri Lanka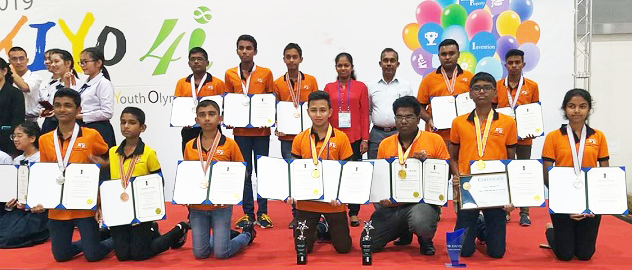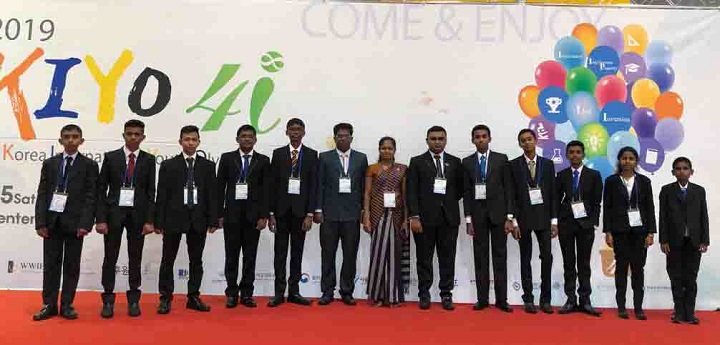 The Sri Lankan School Inventors who participated in the "Korea international Youth Olympiad (KIYO) 4I 2019" competition held in Seoul, Korea on 05th and 06th October were rewarded with great achievements.
They have won three (03) Special Awards, three (03) Gold Medals, six (06) Silver Medals and four (04) Bronze Medals.
Participants in this competition were selected among young inventors who won gold medals in the school category at the "Sahasak Nimavum 2018" national exhibition. The Sri Lanka Inventors Commission fully sponsored the students to participate in the competition. Their achievements are as follows.
| Inventor | Invention | Medals & Awards |
| --- | --- | --- |
| Pasindu Mihiran | "Modified Yoghurt Cup to Prevent Spreading of Mosquitoes" | Gold Medal with a Special Award |
| Nadeesha Bandara Thennakoon | "Ultra-Thin Film Coating Machine" | Gold Medal with a Special Award |
| K. P. Yeshan | "Remote Controlling Safety Firing to drive away animals" | Gold Medal with a Special Award |
| T. V. R. Pathirathna | "Rahu Time Indicator Clock" | Silver Medal |
| T. V. R. Pathirathna | "Easy Food Packet" | Silver Medal |
| Pasindu Shehan Gunarathna | "Machine of Producing Wood Nail" | Silver Medal |
| T. D. T. Weerasingha | "Dodol Batter Mixing Equipment" | Silver Medal |
| U. Sanathanan | "Unlocked Positioning Alarm Lock" | Silver Medal |
| Bosilu de Silva | "Automatic Computer Controller" | Silver Medal |
| Janidu Bandara | "Stone Carpet" | Bronze Medal |
| Udara Dewmika | "Vessel with Easy Transportation (Vegetables and Fruits)" | Bronze Medal |
| Viraj Chamika | "Smart Gem Tester" | Bronze Medal |
| Dineth Yasodha Rajasekara | "Clipper of Nail Cutter" | Bronze Medal |