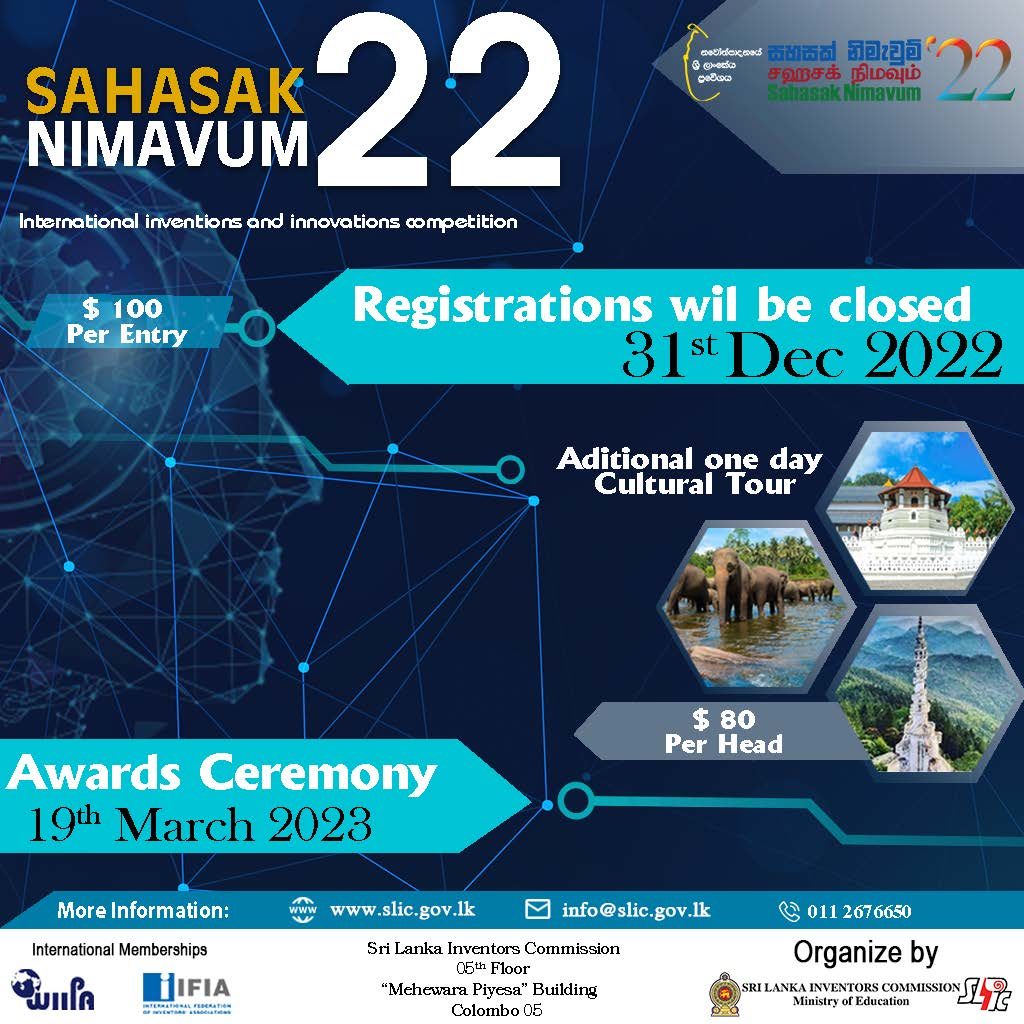 We warmly invite you to participate in the fourth Online Sahasak Nimavum 2022 International Invention and Innovation Competition.
This year we planned to organize an online competition, which you can participate in the competition where ever you are. Therefore, we have changed several protocols as mentioned follow
The deadline for registration – 31st December 2022.

The competitors have to register online.

The winners' names will be published on the official website of Sri Lanka Inventors Commission.

The winner's medals and the certificates will be couriered to the provided postal address of the winner.

The registration fee for the event is $100. Payment can be done as an online transaction to the bank account mentioned below
( The payment slip needs to be attached to the registration form.)
Beneficiary Name: Sri Lanka Inventors Commission
      Beneficiary Address: 5th Floor, " Mehewara Piyesa" Building, Colombo 05.
Beneficiary Account Name: Sri Lanka Inventors Commission
Account Number: 204-4-021-3-1791066
Beneficiary Bank: People's Bank
Beneficiary Branch: Headquarters Branch
Branch Address: No.75, Sir Chittampalam A. Gardiner Mawatha, Colombo 2, Sri Lanka.
Bank SWIFT Code: PSBKLKLX
Payment should be made in full amount type, any taxes or levies must be borne by the participant
-Registration desk – https://docs.google.com/forms/d/1ll8KtqXNcq1duiNTKcsfDwq1kHeexRoDC_1RX98qH44/edit
-Telephone: +94 11 26 76 648, +94 11 36 122 32, +94 11 26 766 50