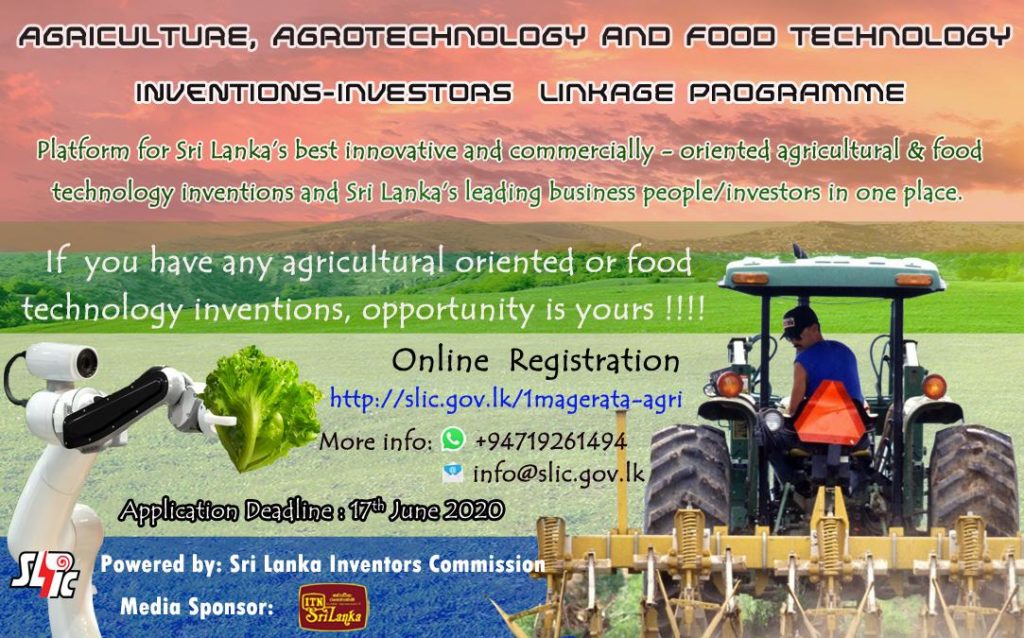 The agriculture sector has always performed a major economic force in Sri Lanka, making a significant contribution to the national economy, food security and employment.
A Platform for Sri Lanka's Best innovative and commercially-oriented agriculture inventions and Sri Lanka's leading Business people/ investors in one place. 1st of July 2020 @ Gangaramaya Temple
If you have an Invention in Agriculture that is ready to commercialize and willing to link up with Investors register here
Prepare these before applying/
අයදුම් කිරීමට පෙර මේවා සකස් කරන්න /விண்ணப்பிக்கும் முன் இவற்றைத் தயாரிக்கவும்
1. Inventor Details/නව නිපැයුම්කරුගේ විස්තර/விண்ணப்பதாரியின விவரங்கள்
2. Description of the Invention/නව නිපැයුමෙහි විස්තර /புத்தாக்கத்தின் விவரங்கள்
3. Patent Information/බුද්ධිමය දේපළ හිමිකම/காப்புரிமம்
4. Submit Your Video for Evaluation /විනිශ්චය කටයුතු සදහා ඔබ විසින් යොමුකරන වීඩියෝව/மதிப்பீட்டிற்கு உங்கள் வீடியோவை சமர்ப்பிக்கவும்
Only this video will be used to evaluate your invention. it should describe the invention briefly with all relevant information for including novelty, practicability, test reports, patent information
විනිශ්චය කටයුතු සදහා ඔබ විසින් යොමුකරන මෙම වීඩියෝව පමණක් භාවිතාවේ. විනිශ්චය කටයුතු සදහා නිපැයුම පිළිබදව කෙටියෙන් විස්තරයක්, නවතාවය, පේටන්ට් විස්තර, ප්‍රයෝගික බව හා පර්යේෂණ සහතික වැනි දෑ අන්තර්ගතවියයුතුයි.
உங்கள் கண்டுபிடிப்புகளை மதிப்பீடு செய்ய இந்த வீடியோ பயன்படுத்தப்படும். இது அனைத்து தொடர்புடைய தகவல்களுடனும் கண்டுபிடிப்புகளை சுருக்கமாகக் கூற வேண்டும் (புதுமை, காப்புரிமம்,நடைமுறை, சோதனை அறிக்கை, மற்றும் தொடர்புடைய)
5. Additional Document if available/අමතර ලියකියවිලි තිබේ නම්கூ/டுதல் ஆவணங்கள் கிடைத்தால்
Attach test reports, Performance Reports /පරීක්ෂණ වාර්තා, කාර්යක්ෂමතා වාර්තාව/சோதனை அறிக்கைகள், செயல்திறன் அறிக்கை
Business Plans or any relevant documents /ව්‍යාපාර සැලසුම් හෝ අදාළ ලියකියවිලි/வணிகத் திட்டங்கள் அல்லது தொடர்புடைய ஆவணங்கள்
If you are willing to invest in agriculture-related inventions please send your contacts via email to info@slic.gov.lk or call Mr. Tharanath 719261494